Katya Dobryakova. Designer With Intellectual Humor
Words Vera Shaban Photography Kyra Ross
Art and fashion are always together and today fashion and technology. What if we added art between the worlds of fashion and technology it could be explosive, but when it comes together it produces something pretty cool.
Katya Dobryakova, contemporary Russian fashion designer who has something to say, designs with satire and ironic messages. Through her very bold texts and prints Katya has became a celebrity in Moscow, creating a very successful brand. Her cozy 3D sweatshirts and one-of-a-kind denim jackets with hand-painted portraits of Tupac, Prince, Homer Simpson and Frida Kahlo gained the designer many fans in Moscow and New York.
Katya first started working with Sony Music as a graphic designer, working on projects such as a High-tech T-shirt for Phillips and Disney. Even her favorite character Cinderella, but Katya Dobryakova success story didn't always look like that. It took small serious steps to own a boutique in SOHO. She met her business-angel investor very randomly on the plane when she was returning from a rock concert. At that time Katya wasn't sure if she should open her first store in Moscow. Today her collections sold all around the world at Saks Fifth Avenue, Moscow, The Place, Kazakhstan, Harvey Nichols, London and Shop at Sauce, Dubai.
How did you get into the world of fashion?
I studied graphic design and worked on album covers before trying my hand at t-shirt prints, more as joke than anything else. One of my first series was printed on an H&M t-shirt was a big hit in the right circus and before long I was receiving random orders for similar work. After those were equally popular I decided to start my own brand in 2010.
How is Vladimir Putin helps you became a celebrity in Moscow?
The first design I printed on a t-shirt featured him and helped me gain popularity, as well as creating a whole new market segment of "Putin T-Shirts". I can only claim to have started this trend, as I no longer feature politicians in my work.
You been working with other companies tell me about your last collaboration with Disney?
Yes, it is actually my third project with Disney; our first collaboration was on Cinderella for our main department store, TSUM. Following that I made a series of denim jackets with Mickey and Minnie mouse, and most recently we created a capsule collection for the new Beauty & the Beast movie. I chose to see it as lighthearted and ironic relationship between men and women, expressed through a variety of his & hers clothes such as sweatshirts, t-shirts, bathrobes, iPhone cases and other items.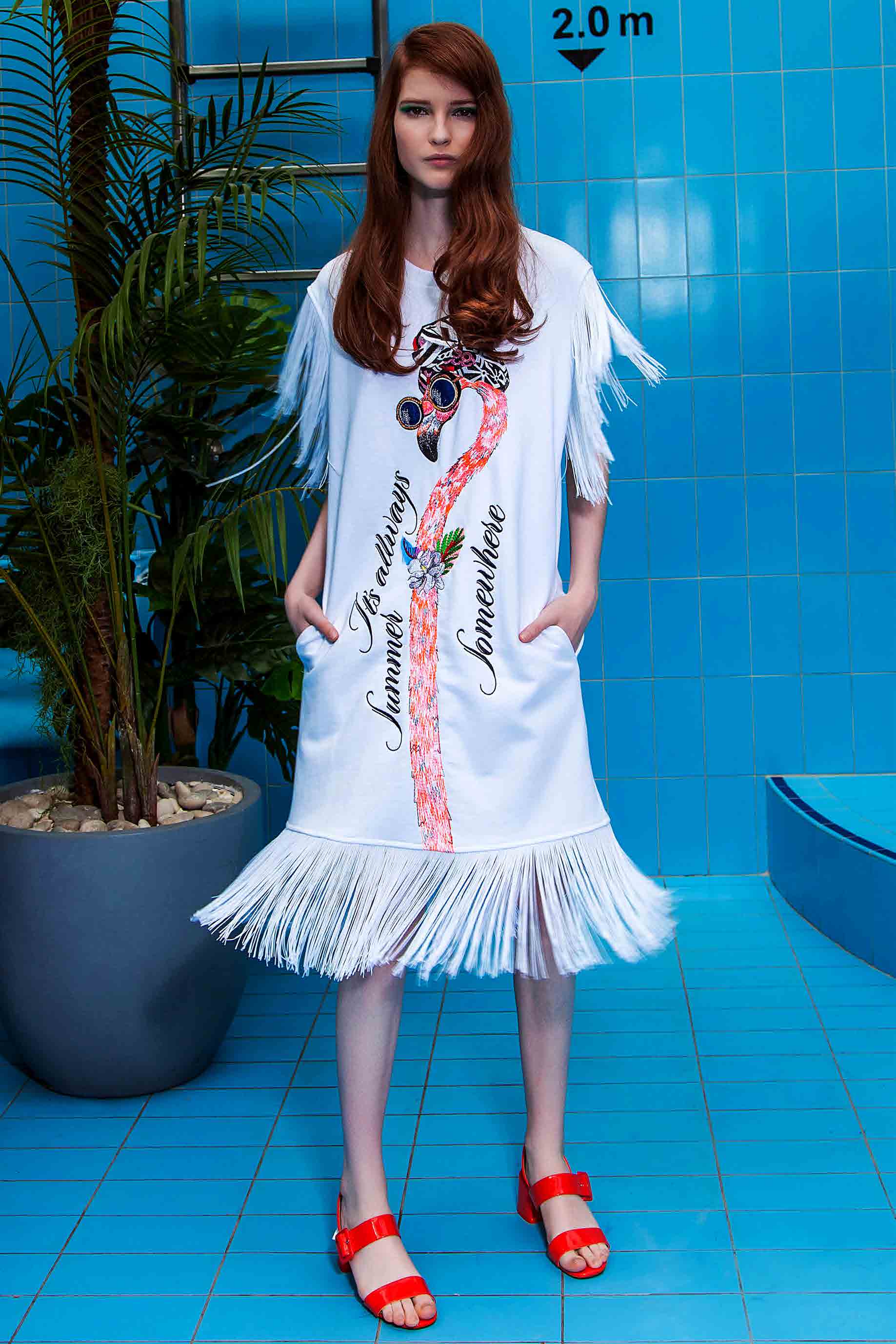 What is your favorite fairy-tale?
Ironically, its Beauty and the Beast, which is why I am so excited to be part of this project with Disney.
Tell us about your latest autumn/winter 2017 collection.
I combined several art styles with modern subculture. Instance I mixed a 15th century paintings with contemporary hip-hop culture. It is all accentuated by vast amounts of embroidery, which is the trademark of the brand. Ranging from coats with sequence embroidery on the back too.
What is your take on what is happening to fashion in Moscow now?
I think the fashion business in Moscow is experiencing a boom, and a lot of people get into this field because it is trendy and appealing. This results in many bloggers and it-girls trying their hand at becoming designers. As a result we are seeing a surge of new emerging brands participating in the numerous fashion weeks held throughout the year, but few make it into retail as most do not see the hard work behind making it work outside the events.
What do people want in Moscow and in New York?
From my perspective it appears that New York tends to be significantly more sophisticated both in market and customers, but the one thing that unites all fashion scenes is the quest for a new design. I think customers in both Moscow and NY have the same urge to discover something new and fresh, that stands out in a positive way, and I often hear people tell I am amongst the ones contributing to the emergence of new directions in fashion, something I am very proud to be a part of.
Your business is based in Moscow and now in New York, how you handle this?
Maintaining a balance is the biggest challenge of having a business that is divided between two time zones that are 9 hours apart. I feel as though every time I focus a little too much on one of the locations another immediately requires my attention, but I have great team of dedicated people helping me handle it.
Do you planning to do special collection for New Yorkers?
Yes, I was thinking about it, I was living in New York while working on opening the store so my FW17 collection is largely inspired by NYC, but I do plan on coming up with a line that is more in touch with the American culture.
How do you think New Yorkers will understand Russians satire and irony?
It is a difficult topic. The best of satire and irony are so thinly veiled and finely tuned that translating it into a different language and culture would be almost impossible. However, I think there is plenty of local content to be inspired by in the US.
What you think when you see someone dressed in Katya Dobryakova?
It always flatters and surprises me, and I continue being amazed at the incredible diversity of our customers.