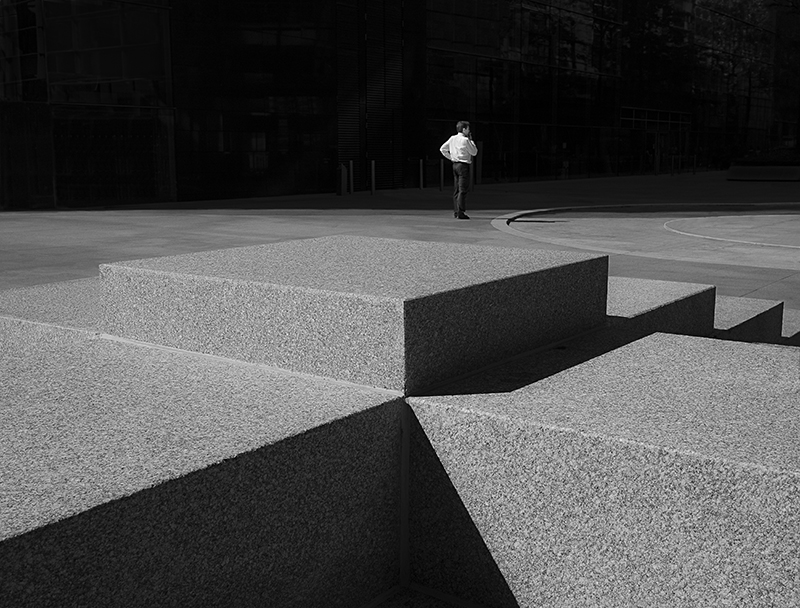 Words Arielle Chambers
London-based photographer Rupert Vandervell combines his interest in clean lines and geometrics to create narrative images of humans interacting with their environment. Finding humans interesting, he creates an array of photographs showing their place in the world. His images are deeply rooted in the product, of which he describes as a representation of his personality.
Vandervell has five series available for viewing on his website. Duel, Late Night Tales, Man on Earth, Urbanities, and Geometrix make for interesting collections. His 2014 Geometrix series uses "a combination of light, shade and human form that comes together in aesthetic harmony [to create] a special geometric relationship." Geometrix series fulfills his desires in attracting the audience through his premise. The series was much about clean lines and angles, while still having texture.
It is to be noted that Vandervell commendably utilizes vast, black space and shadowing to create a unique perspective. His lines are indeed clean and through technique, he achieves beautiful silhouettes as well. The mixture of people and places within the image also makes the viewer feel a certain movement (or intentional stillness) behind the image. For more information about future collections and the photographer himself, visit Rupert Vandervell.